Dog brushes and cat brushes
Dog brushes and cat brushes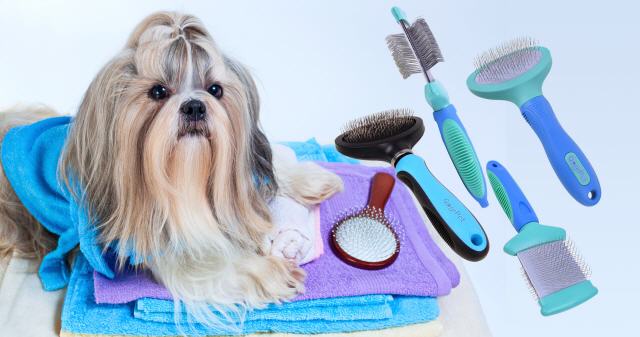 Why do we need brushes for dogs and cats?

Brushing is essential for long-haired dogs, cats and animals with medium-length hair to avoid matting.
As a rule of thumb, comb daily to remove coarse dirt, burrs and small tangles and brush thoroughly 1 - 2 times a week depending on the coat.
If the coat is already matted, a mat remover can be used.
For the removal of undercoat and for the care of short-haired dogs and cats, please see Shedder and Undercoat Removal.
GogiPet Multibrush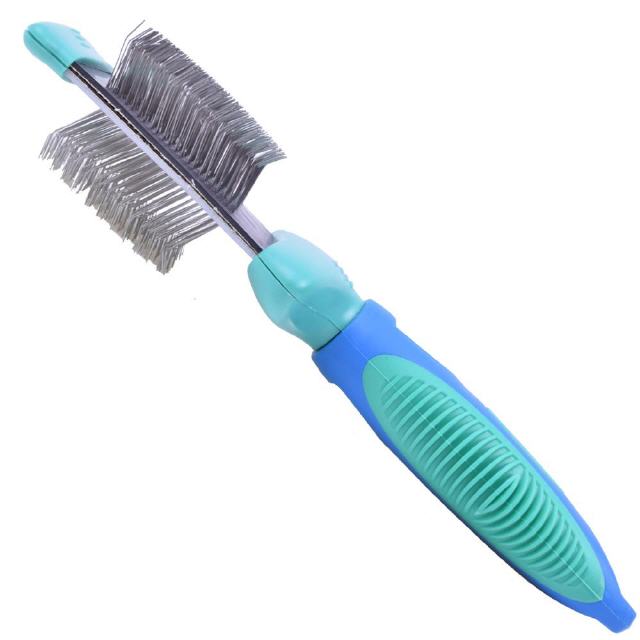 The advanced dog brush and cat brush with soft and hard sides.

The GogiPet® Multibrush was developed by leading groomers for the optimal brushing of dogs and cats with long and medium length hair. The Multibrush is an extension of the Universal Brush which is also known as the Slicker Brush and which perfectly adapts to the body. The Multibrush has 2 flexible brush sections, a harder side for pre-brushing and a soft side for thorough brushing.
The Multibrush's flexible brush panels adapt to the pet's body and apply only enough pressure to keep brushing comfortable for the pet. However, as it is very important that you really brush right down to the skin, the Multibrush is the perfect pet brush for dog grooming and cat grooming.

For more information about the Multibrush, please click:
GogiPet® Multibrush small for small dogs and cats 2 in 1 or.
GogiPet® Multibrush large for larger dogs 2 in 1
here you can also buy the Multibrush online.
Slicker Brush - Universal Brushes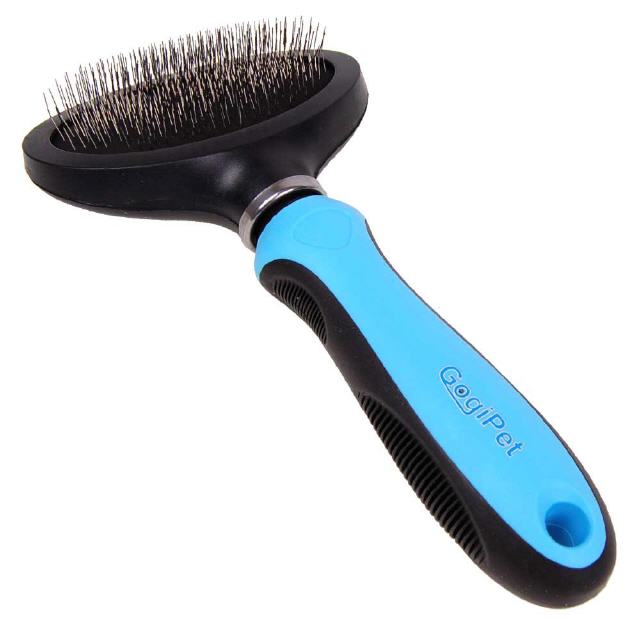 Universal brush for dogs and cats.

The slicker brush or universal brush is the most commonly used pet brush. Universal brushes come in different sizes and hardnesses.
It is important for a good dog brush that the pins are rounded to make brushing dogs and cats as comfortable as possible. GogiPet® universal slicker brushes all have rounded pins which are incorporated into a soft brush field.

Harder pet brushes are used on coarser soils to remove them and prepare for thorough cleaning. The harder GogiPet® Slicker Brush has a moveable brush field so you can't unintentionally press on too hard. For thorough brushing, the GogiPet® Multibrush is especially recommended and for small areas such as the armpits, the GogiPet® Mini Soft Brush is used.

For more information about the different universal brushes, please click on:
GogiPet® Mini Soft Brush for Dogs and Cats.
GogiPet® Premium Plucking Brush Flexi S for small dogs and cats
GogiPet® Premium Slicker Brush Flexi L for medium and large dogs
here you can also buy the slicker brushes online.
Automatic dog brushes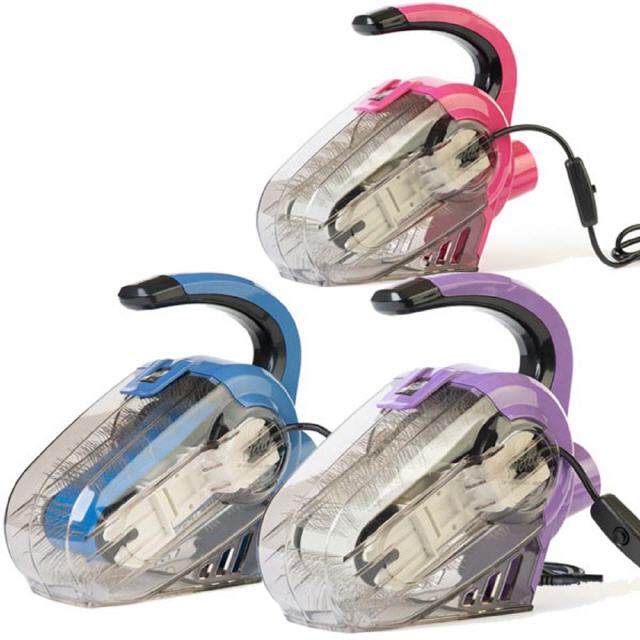 Electric dog brush and de-tangling machine.

For very frequent brushing such as in the dog salon, for breeders and dog owners of large dogs or several small dogs, GogiPet also recommends the use of the automatic dog brush and de-matting machine. The dog brush, which lies loosely in the hand, removes tangles effortlessly and thoroughly brushes through the coat.

New: The successor to the Auto Dog Brush is the smaller, lighter and quieter Auto Dog Brush Petite, which is even easier to hold.

A safety chip ensures that the automatic dog brush stops automatically in case of excessive pulling and is safe to use. The automatic dog brush is connected to a standard vacuum cleaner to prevent hair from flying around and dander from being inhaled. GogiPet has carried out independent tests in its own dog salon and in collaboration with numerous dog groomers and gives the automatic dog brush and de-tangling machine the rating of highly recommended.

For more information and videos about the automatic dog brush, please click:
Automatic Dog Brush & Unfelting Machine Auto Dog Brush.
here you can also buy the automatic dog brush and de-furring machine online.
Back to GogiPet Dog Grooming Supplies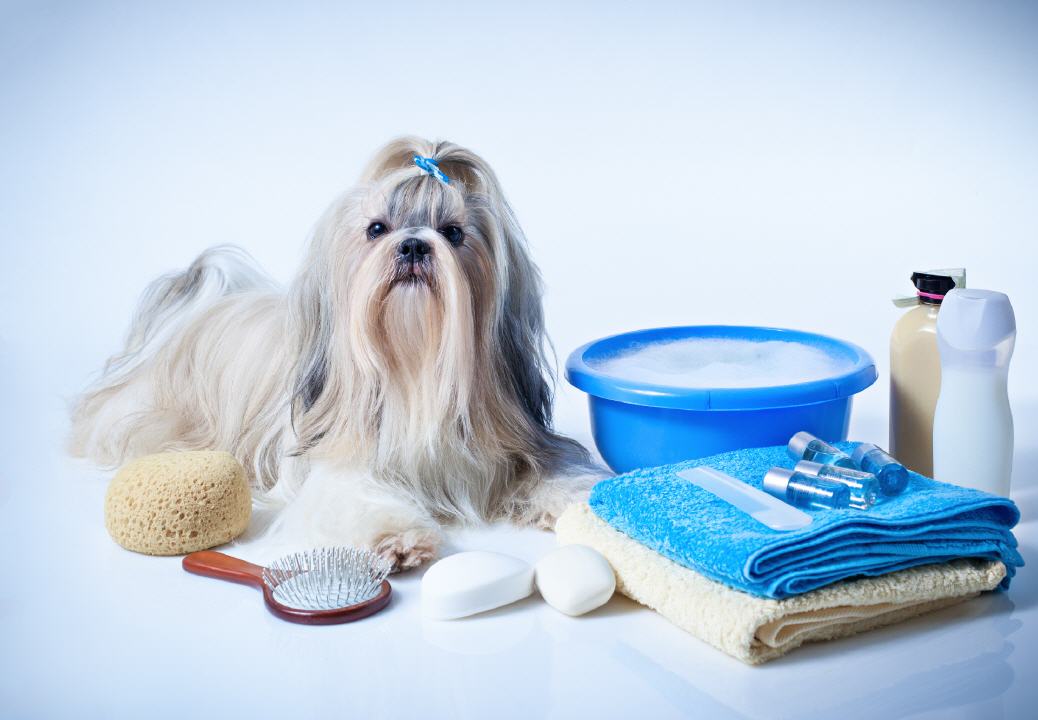 GogiPet Dog Grooming Supplies and Salon Equipment
The GogiPet® dog grooming supplies are not only suitable for dog groomers, the dog grooming supplies are equally appreciated by breeders and private home users. The range of GogiPet grooming tools includes brushes, combs, currycombs, de-felters and more, as well as clippers, hair clippers, grooming tables, dog dryers and professional dog baths. Click on the image to see the complete overview for pet grooming supplies. >>>>>>>>>>>>>