GogiPet® Dog Accessories and Cat Accessories
Welcome to GogiPet®
GogiPet® is your partner for dog grooming supplies, dog products and cat products.
GogiPet® has been involved in professional pet care for many years, both for the dog groomer and for the private dog groomer and cat groomer. GogiPet® does not want to reinvent the wheel, but to make it run smoother. There are already hundreds of productions of high-quality dog products and cat products worldwide, GogiPet® has made it its business to test and improve pet products extensively with numerous partners, to find innovative products on a fair trade basis and to bring everything under one denominator. At GogiPet® dog accessories and cat accessories you will find pet products with a perfect price-performance ratio in independently verified quality.


GogiPet® is a registered trademark in Europe and deals mainly with 2 topics. Dog grooming supplies and dog salon equipment as well as dog accessories and cat accessories. GogiPet® is revolutionising dog grooming with improved independently tested grooming products and grooming tools such as natural, highly efficient cosmetics, clippers, grooming tables, dog dryers, hair scissors, dog baths and all grooming supplies which are thoroughly tested and constantly improved in our own dog salon. Furthermore, GogiPet® tests dog products and cat products independently of manufacturer specifications in its own quality control department, such as dog collars, dog toys, urine removers, dog bags, dog beds and many other dog products and cat products. GogiPet® either makes recommendations for particularly good dog products and cat products, or improves the pet products and sells them directly. Because GogiPet® works without middlemen, you get GogiPet® pet products at an unbeatable price-performance ratio.
GogiPet products are available in well-stocked pet shops, at dog groomers or in the online shop of Onlinezoo.

Directly to the online shop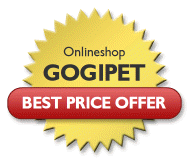 Please also recommend us to your friends
13265721 Thank you for your visit