Stripping knives and pluckling aids
GogiPet stripping knives and plucking aids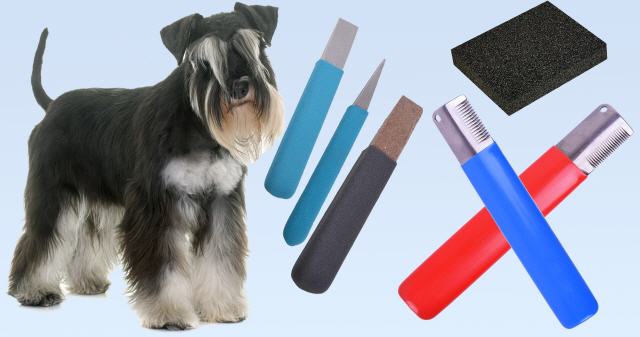 What is stripping?
Stripping is the plucking of mature hair so that the hair that grows has room to grow again. Tools such as the stripping knive are used so that the mature hair layer can be easily grasped.

Why and which dogs are stipped?
It depends on the breed, dog breeds such as Spaniel, Setter, West Highland Terrier, Scottish Terrier Fox Terrier, Airedale Terrier, Norwich Terrier, Welsh Terrier, Griffon, Lakeland Terrier, Cairn Terrier, Border Terrier, Norfolk Terrier, Rough-coated Dachshunds, Schnauzers, Jack Russell Terriers, Parson Russels and rough-coated dog breeds or mixed breeds with double coats should be stripped to maintain coat texture and keep skin healthy.

Stripping is often confused with clipping, but one has nothing to do with the other, stipping dogs should generally not be clipped to prevent the coat structure from atrophying and to avoid skin problems. PROPER PLUCKIMG DOES NOT HURT!
However, if it's just a matter of your dog losing too much hair, please see currycombing, shedding and undercoat removal.
Stripping knives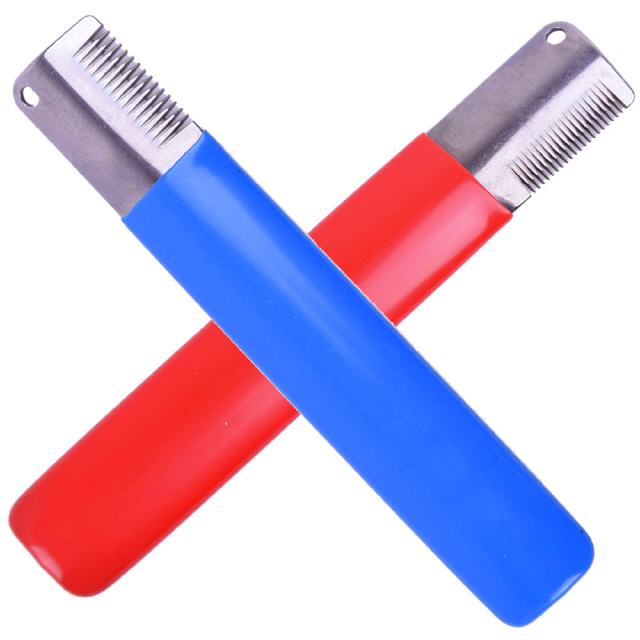 A good stripping knive should be an extended thumb.

For dogs with undercoat such as West Highland Terrier, Schnauzer, Fox Terrier, Roughhaired Dachshund... this is first removed with the Coat Master. The now clearly visible hair length can now be plucked with the stripping knive. As a rule, only the longest layer of hair is grasped with the thumb and the blades of the stripping knife and plucked in the direction of growth.
There are stripping knives a dime a dozen, but basically 2 good stripping knives are sufficient, one with fine blades and one with coarse blades for fine or coarser fur. The stripping knives designed by GogiPet® are optimised for both the beginner and the advanced professional groomer. The thumb fits perfectly on the flat shaft and holds the hair to be plucked very well. The handle is covered with non-slip, skin-friendly rubber so that you can work for a long time without tiring and without pain.

For more information about the stripping knives, please click on:
GogiPet® stripping knives flat & finefor finer hair.
GogiPet® stripping knives flat & coarse for coarser hair
here you can also buy the stripping knives online.
Stripping Stone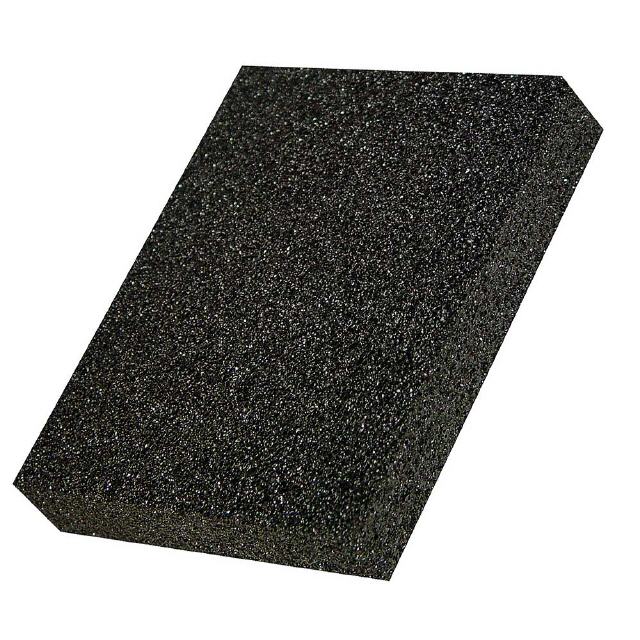 The stripping stone for plucking large areas.

The stripping stone, brimstone or pumice stone is also popular for plucking large areas. Plucking with the stripping stone is a more natural way of stripping. The "original dog" with a coat to be stripped plucked out the hair himself by rubbing off the itchy hair on rough surfaces and bushes. Today's dogs, however, have much thicker coats and can no longer do this on their own, so they need our help. The stripping stone has a very rough surface and hair can be easily grabbed and pulled out with it. For large areas, the stripping stone is a good way to pluck the coat. For smaller areas and for precise stripping of the corresponding coat layer, the stripping knive is used.

For more information about the stripping stone, please click on:
GogiPet® stripping stone
here you can also buy trimming stones online.
Stripping sticks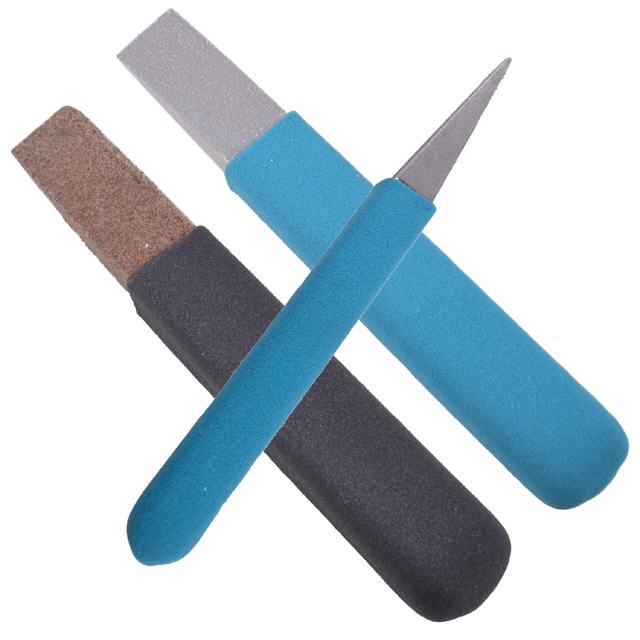 The stripping rod for plucking delicate small areas.

Stripping sticks are very popular for stripping small delicate areas. With the wedge-shaped, rough surface, hairs to be plucked can be gripped very well and the rubber-covered, non-slip grip of the stripping stick is very comfortable for the groomer. Especially for small, fine detail work such as on the ears, the forehead, the eye area or the head in general, the stripping stick is the perfect plucking tool. The stripping stick also offers optimal assistance with the tail. GogiPet® offers slightly softer stripping sticks made of stripping stone and very durable stripping sticks made of stainless steel. Stripping stick and stripping rods are the same, they are just both common names).
For more information about stripping sticks, please click on:
GogiPet® Trim Stick 14 mm made of trim stone.
GogiPet® Trim Stick 9 mm made of stainless steel
GogiPet® Trimstick 14 mm made of stainless steel
here you can also buy trimsticks online.
Back to GogiPet Dog Grooming Supplies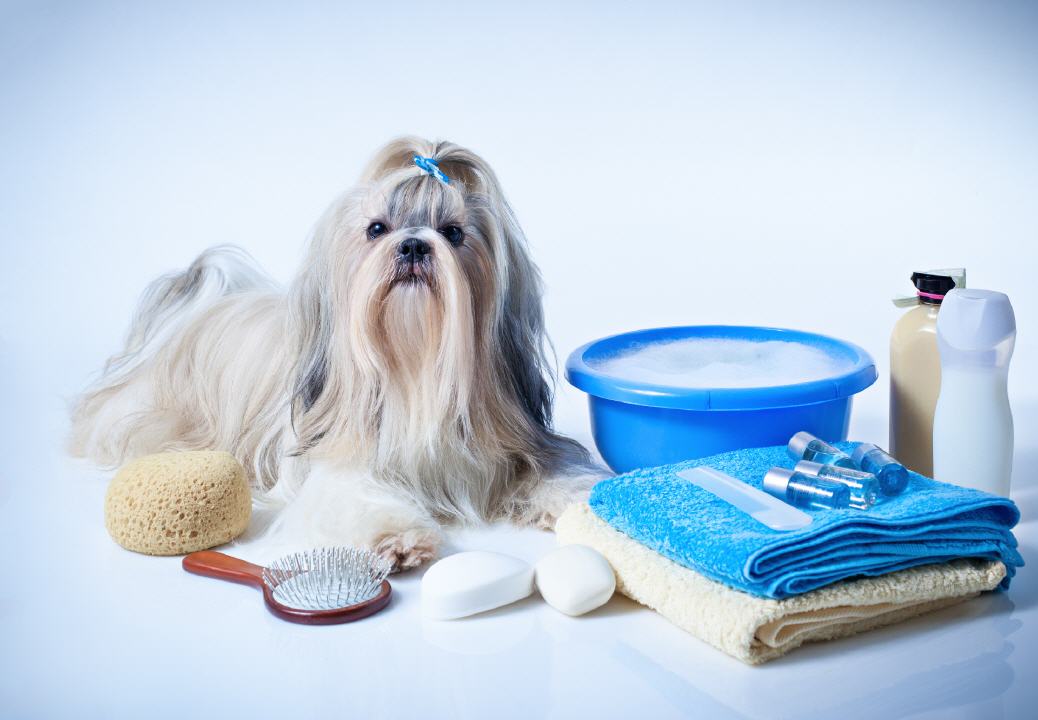 GogiPet Dog Grooming Supplies and Salon Equipment
The GogiPet® dog grooming supplies are not only suitable for dog groomers, the dog grooming supplies are equally appreciated by breeders and private home users. The range of GogiPet grooming tools includes brushes, combs, currycombs, de-felters and more, as well as clippers, hair clippers, grooming tables, dog dryers and professional dog baths. Click on the image to see the complete overview for pet grooming supplies. >>>>>>>>>>>>>
All GogiPet recommended stripping knives and plucking aids for hand stripping can be found at Onlinezoo in the category stripping knives and tools.