GogiPet Naturetoy Dog Toy & Cat Toy
Pet toys from nature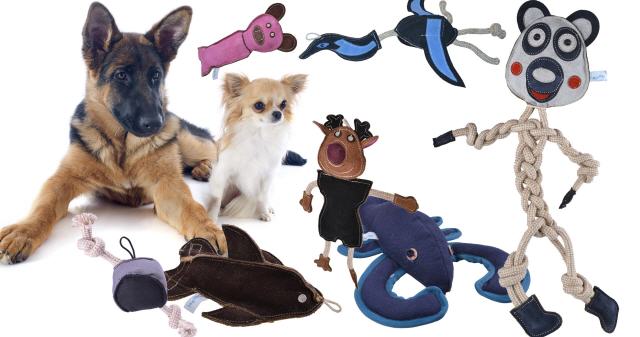 Dog toys and cat toys from GogiPet® Naturetoy.

Dogs and cats love to play to pass the time. GogiPet® offers a huge selection of dog toys and cat toys for small and large pets. But GogiPet® wants to go one step further with the Naturetoy dog toy and cat toy series. Fair trade produced pet toys made from natural, sustainable and / or recycled raw materials. But the fun of playing is not neglected - even with the natural raw materials there is so much to explore when it cracks and crackles. Dog toys and cat toys should also satisfy curiosity. The driving force behind GogiPet® Naturetoy is the love for dogs and cats. GogiPet® is committed to innovative dog toys and cat toys, for the well-being of your pet and its environment.

GogiPet® is passionate about developing a range of natural and sustainable pet products to offer you a wide choice.

The philosophy of GogiPet® Nature Toys dog toys and cat toys:

Back to the roots on basic, pure and simple ideals. GogiPet® wants to be useful for your pet and manufactures dog toys and cat toys while respecting our planet and fair production conditions. Balanced, GogiPet® uses recycled and renewable raw materials to ensure a high quality and sustainable range of dog toys. GogiPet® does not use harsh or toxic chemicals in the production of dog toys and does not use unnecessary artificial colours and flavours in dog toys that could be hazardous to your pet's health.

Independent laboratory testing and rigorous standards ensure a sustainable, safer, healthier and more humane range of dog toys and cat toys so that your pet comes first.

Go here for the widest selection, find the right toy for your dog and cat:
GogiPet® Naturetoy dog toys and cat toys.
here you also get further information about the GogiPet Naturetoy animal toys.
Dog toys simple, good and environmentally friendly
It starts with environmentally friendly packaging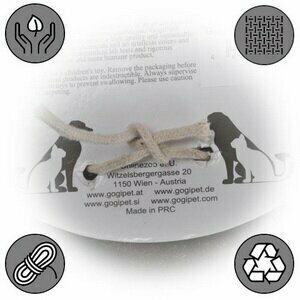 A lot of rubbish for nothing.

It probably won't have escaped your notice that our rubbish bins are filling up at least 3 times as fast as they did 10-15 years ago, but does that have to be the case?
GogiPet® Naturetoys deliberately does without all plastic packaging without the retailer having to limit the representation of GogiPet dog toys.
A sturdy cardboard card is used for hanging in the pet shop because that's all it really needs.
A simple jute thread holds the dog toy or the cat toy in place - packaging can be so simple if you only want it to be.
Dog toys and cat toys made from coconut fibres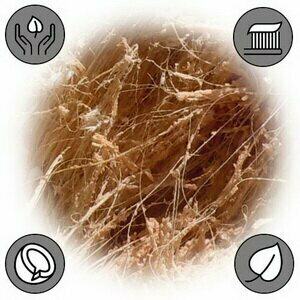 Pet toys filled with sustainable coconut fibres.

Coconuts are covered with numerous fibres, which are usually simply disposed of.
But why?
The coconut fibres, once dried, are excellent for filling dog toys and cat toys.
Coconut fibres are gentle on the teeth and do not harm the delicate olfactory organs of our 4-legged friends.
Even if one or the other fibre is swallowed, the organism of your pet is not unnecessarily burdened and simply excreted again.



Dental care dog toys and cat toys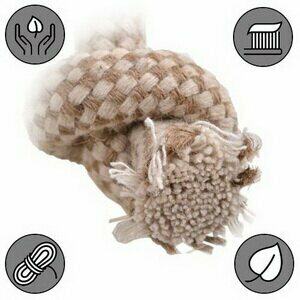 Pet toys with jute ropes are perfect for dental care.

Dental ropes are very popular with dog toys and cat toys as they playfully clean the teeth.
Our pets often gnaw on the dental ropes for hours and visibly relax.
GogiPet offers pure dental ropes or combined with other materials as dog toys and cat toys.
If you would like to dedicate yourself even more to dental care, why not try the GogiPet dental care spray?
so that your pet's teeth will stay healthy for a long time. Brushing your dog's and cat's teeth can be so easy.


Leather dog toys and cat toys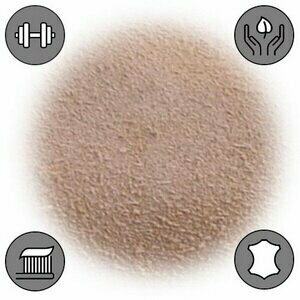 Pet toys made of naturally tanned leather.

Naturally tanned genuine leather is an extremely strong and durable material that does not break easily during play.
For dog toys and cat toys, naturally dyes are also a must and easy to realise.
GogiPet dog toys are therefore designed for long and safe use without consuming petroleum and other resources.
Recycled dog toys and cat toys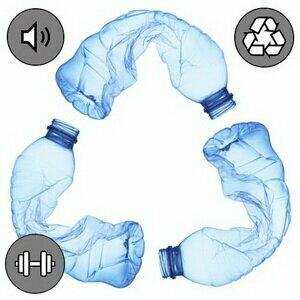 Mysterious sounds from recycled pet bottles.

Some dogs and cats need a special incentive to find pet toys interesting. This is usually achieved with plastic flutes or other plastic parts that make noises. GogiPet has also thought about this, the coconut filling makes the GogiPet dog toys and cat toys particularly mysterious, but if it should be even more mysterious, GogiPet also offers dog toys with a special surprise, which is filled with recycled pet bottles, and therefore crackles particularly interestingly when the leather cover is gnawed. Should the recycled pet bottle break completely over time, you can replace it yourself with a used one, simply open the Velcro bottle and wear it out again.